I remember when Cassius Clay made his entry into my boyhood. There was this huge and brutal heavyweight champion of the world called Sonny Liston, who apparently had connections to the Mob, and who demolished his opponents with mighty blows in the 1st round of his fights. Then comes Cassius Clay, saying in pre-match interviews "Somebody is going to die at the ringside tonight", and I thought – everyone thought, because there were 7-1 odds against Clay – that that would probably be this 22-year old big mouth. "When I am finished with him, I'm going to donate him to the zoo." – says Clay. Right.  (Note 1.)
Becoming Heavyweight Champion of the World
Liston did his best to win. At the end of round 4, Clay complained that he had a blinding pain in his eyes, which was something two previous Liston opponents had complained of, (the Mob ensuring their investment through dirty tricks probably), but he managed to evade the lumbering Liston and battered Liston so much, that he never got out of the corner for the 7th round. Cassius Clay's progressed MC was sextile Pluto (and semi sextile Mars), and his progressed Sun conjoined the Descendant (and subsequently Venus) at this time.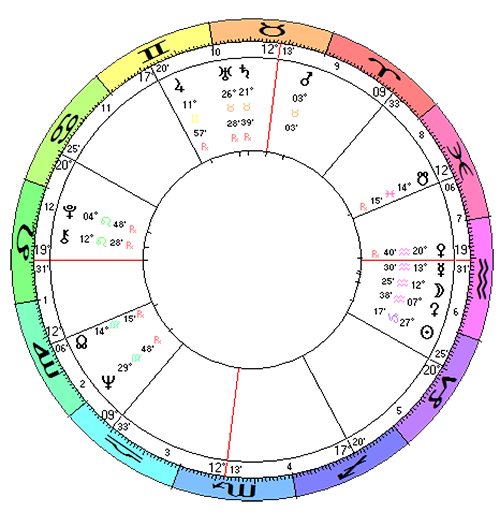 Muhammed Ali. January 17th, 1942. 18.35 Louisville, Kentucky.

So that was my introduction to Cassius Clay – soon to be Muhammed Ali. He rounded off the victory saying: "I am the greatest! I shook up the world. I'm the prettiest thing that ever lived" And he was a handsome fellow. In fact, with Leo on the Ascendant and Venus conjoining the Descendant, he never had problems attracting admirers, among whom were four wives and several mistresses. Confidence in his good looks was never an issue for him, and when Will Smith played him in the 2001 film "Ali" his comment was "Man you're almost pretty enough to play me."
The Rap Artist
Although Muhammed Ali was celebrated as the greatest boxer who ever lived and named sportsman of the century, perhaps his facility with words that was just as extraordinary. This man spoke in rhyme and with a self-assured arrogance, which was the precursor to the rap music genre today. It wasn't poetry, but it was memorable, and this ability to express something which resonated with his audience is illustrated by his exact conjunction of Mercury in Aquarius with the Moon in a delightful trine to Jupiter in Gemini. He has actually recorded two spoken word albums, for which he received Grammy Award nominations.
However, when he registered for conscription in the army, as everyone was required to do in this Vietnam War era, he was initially rejected because his writing and spelling skills were substandard. He said of this episode: "I said I was the greatest, not the smartest!"
Nation of Islam
At the time he became heavyweight champion of the world he was actually in the process of converting to Islam. He adopted his Muslim name, rejecting Cassius Clay as a slave name. The media, the authorities and the public really did not like this transformation. The Nation of Islam was aggressively anti-white and anti-integration, was considered violent and potentially terrorist, and associated at that time with Malcom X (who subsequently left it)
But Ali was a black man, with searing memories of racist slights growing up as a child. His response to the media was to say, "I am America. I am the part you won't recognize. But get used to me. Black, confident, cocky; my name, not yours; my religion, not yours; my goals, my own; get used to me." Well spoken for a man with the Sun trine Uranus within one degree.
This adoption of a belief system which undermined the USA's comfort zone, is clearly shown by Mars in Taurus in the 9th house in close square to Pluto, indicating an attraction to an aggressive and fundamentalist belief system, with a powerful and dangerous ideology. Pluto is opposing the Sun and the Moon – in fact exactly on the Sun/Moon midpoint – so Ali could be expected to stubbornly double-down on his beliefs, without worrying about alienating people, even to the point of being self-destructive.
It was a radical member of the Nation of Islam who murdered Malcolm X, and Ali later repudiated the extremism associated with the organization, adopting Sunni Muslim beliefs in 1975. He went on two pilgrimages to Mecca, and was also interested in Sufism towards the end of his life.
Vietnam
At the height of his career he hit problems. He had a second fight against Liston and won two minutes into the first round, and subsequently beat Floyd Patterson and Ernie Terrell. He was furious at Terrell for calling him Clay instead of Ali, and taunted him throughout the fight, apparently prolonging the fight to administer maximum punishment, which did not improve his reputation with the media. Nobody can say Mars square Pluto is kindhearted.
By this time – the mid-sixties – America's role in Vietnam was escalating, and the peace movement was growing, spearheaded on the one hand by the hippie culture and on the other by black civil rights movement led by Martin Luther King, whose assassination in April 1968 was to unleash riots in major US cities. Ali was called up to serve in the army – and refused saying memorably, "I ain't got nothing against no Viet Cong; no Viet Cong never called me nigger."
He expounded on this by saying:
"Why should they ask me to put on a uniform and go ten thousand miles from home and drop bombs and bullets on brown people in Vietnam while so-called Negro people in Louisville are treated like dogs and denied simple human rights"
The US establishment and boxing organizations stripped Ali of his world title in March 1967, convicted him of draft evasion in June and sentenced him to 5 years in prison. He appealed and never served time, and was finally unanimously acquitted by the Supreme Court in 1971 – you cannot imprison a conscientious objector, as Ali was. This meant he did not fight for over three years at the peak of his career. He had now reached his Saturn return, and, for a boxer, he was getting old.
The period from 1966-1967, when Ali initially came up against the establishment happened as his progressed retrograde Mercury conjoined the Sun, exactly on his Venus/Saturn square. One year before his acquittal, he got his boxing license back, exactly at the progressed new moon, with progressed Sun square Uranus. Saturn and Uranus represent here the establishment and anti-establishment forces – first he was constrained, and then he was liberated.
The Rumble in the Jungle
On March 8th, 1971, Ali reappeared as an undefeated world champion to fight Joe Frazier, who was also undefeated champion in Ali's absence. It was the fight of the century. According to Ali, Frazier was "too ugly to be champion", but ugly or not, Frazier won the fight on points after 15 rounds, where Ali took a lot of punishment. Transiting Saturn was exactly on his progressed Mars at the time, and square his Ascendant. In his early years Ali was renowned for his incredible speed of movement, and his strikes that came out of nowhere. "Dance like a butterfly, sting like a bee". Now he was slowing up, taking more hits, which probably later contributed to his subsequent debilitating Parkinson's disease.
However, in January 1974 Ali had a rematch against Frazier, which he won, paving the way for a world heavyweight championship against George Foreman in Zaire, which became known as the Rumble in the Jungle. At age 32 Ali declared himself ready and able to beat the 24-year old Foreman, then considered one of the hardest hitters in heavyweight history. He said:
"I've done something new for this fight. I done wrestled with an alligator, I done tussled with a whale; handcuffed lightning, thrown thunder in jail; only last week, I murdered a rock, injured a stone, hospitalized a brick; I'm so mean I make medicine sick."
Any rap artist would be proud of those lines, with their nice Jupiterian exaggerations, rhymes and alliterations. This was the fight when he used the famous "rope-a-dope" strategy, leaning against the ropes and taunting Foreman, as Foreman threw punch after punch in the African heat and humidity. So it was that on October 30th 1974, Foreman exhausted himself, as Ali deflected and neutralized his punches, and in the 8th round Ali floored Foreman with a flurry of punches, and won by a knockout. The pro-Ali African crowd went wild. Ali's retrograde Mercury exactly conjoined the Moon/Jupiter trine at this point, which in many ways was his life's peak performance.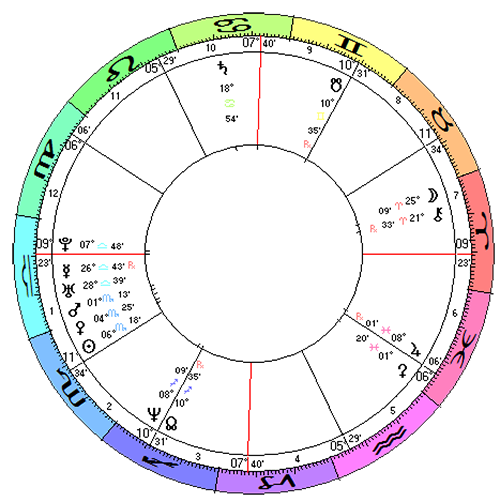 The Rumble in the Jungle: October 30, 1974 4.00 Kinshasa, Zaire

The horoscope for this fight is instructive. The fight started at 4 a.m. to take advantage of prime time US television. At the time Pluto was rising in Libra. The Moon in Aries opposed a conjunction of Mercury and Uranus, reflecting what was a very early major worldwide satellite broadcast, and was exactly square Ali's Sun. Mars had just entered Scorpio to conjoin Venus and the Sun – a stellium that exactly constellated with Ali's Mars/Pluto square. Neptune conjoined the North Node (opposite Ali's Jupiter) and was precisely square Jupiter, reflecting the amazing excitement and media hype of the event.
The Thriller in Manila
Ali subsequently had a 3rd fight against Joe Frazier in The Philippines on October 1st 1975 in temperatures approaching 100 F (38 C). It was a hard-fought contest, going 14 rounds, with both fighters exhausted. The fight was stopped at that point because Frazier had been hit so many times in the head that his eyes had swollen shut, and he could not see. Ali later said that the fight "was the closest thing to dying that I know". He won by technical knockout. His progressed Mars was exactly conjoining natal Saturn at this time.
Ali went on to fight quite a few more fights, but at this point he was going downhill. He announced his retirement several times, only to return to the ring, probably to support his extravagant lifestyle, his four wives, nine children and mistresses. By 1980 the first signs of Parkinson's disease were apparent. His last fight was on December 11th, 1981.
Decline, but not Fall
Later in his life Ali worked tirelessly despite Parkinson's for the causes he believed in, both locally in the USA and internationally for prisoner release among other things. In 1998 he worked with actor Michael Fox, who also had the disease to raise awareness about the disease. On July 27th 2012 a visibly frail and trembling Ali lit the torch at the Olympic Games in London in an iconic moment that reflected the triumph of the mind over the body.
It seems that 2016 has been a year when many iconic individuals have passed on – probably because of the long retrograde and direct passage of Mars in Scorpio – and so it was that, with retrograde Mars in Scorpio opposing Ali's Uranus. Muhammed Ali aka Cassius Clay died on June 3rd 2016, aged 74.
Adrian Ross Duncan – June 13th 2016
Thanks to Wikipedia for the Muhammed Ali quotes and biographical material.