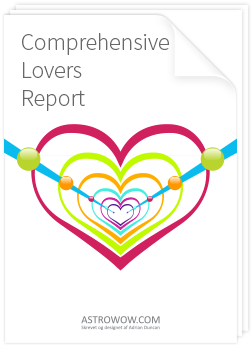 Approx 20 pages
Comprehensive Lovers Report
(Windows only)
This personal astrology report tells you everything you need to know about your love life. When it comes to reports about astrology and love, our love compatibility report is the most advanced astrology report on the market. Currently there is a 48-hour delivery on this relationship reading, as it is generated manually with our Astrology for Lovers software.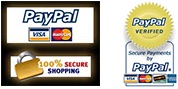 Security: All transactions are done through SSL (Secure Socket Layer) 256 bit encryption.
Privacy: We comply with strict privacy and antispam policy please refer to our Privacy Policy section to know more…
SAMPLE REPORTS
This astrology report assesses the romantic compatibility between you and your partner with the focus on many different themes, amongst others Romance, Emotions, Sex, Communication etc. Our astrological compatibility graph shows just how intensely you relate, and whether there is going to be tension or harmony according to each of the different astrology relationship themes.

You love compatibility report is worked out with a complex series of astrological algorithms which not only compare planets in your horoscope to planets in your partner's, but also scans each personal horoscope to identify themes, and therefore areas of interest, which you are both going to share. In addition, this astrology report gives easily understood interpretations of each person's personality traits, which helps you understand why you and your partner act as you do.

Furthermore, specific advice is given, so that together you can work out how to avoid problems and tensions in your love life, how to improve your sex life, and generally how to improve the quality of your relationship as a whole. This personal astrology report will truly improve your love life, and is something you can read alone or together with your partner to rediscover intimacy and mutual understanding.

See video
Read what users of Comprehensive Lovers Report say
Comprehensive Lovers Report
$37.50 (Inclusive VAT)
---
OTHER REPORTS
Designed and written by astrologer Adrian Ross Duncan, our reports was designed to give you a fully immersive experience of astrology and of your own personal horoscope. We believe that astrology should be presented in an easily accessible way.