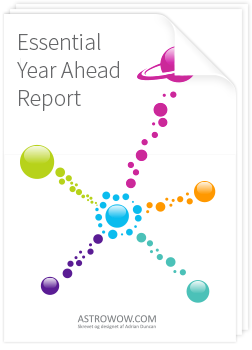 Approx 30 pages
Essential Year Ahead Report
(Windows only)
The Essential Year Ahead Report gives a personal astrology reading which is a synthesis of Adrian Duncan's 30 year astrology practice, combining every conceivable important technique for astrological prediction - transits and progressions of course, along with the solar return, planetary and age cycles. All closely correlated with your birth horoscope and its strengths and limitations to make a personal astrology report that reveals all major trends in the year ahead.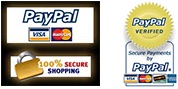 Security: All transactions are done through SSL (Secure Socket Layer) 256 bit encryption.
Privacy: We comply with strict privacy and antispam policy please refer to our Privacy Policy section to know more…
SAMPLE REPORTS
No other astrology reading attempts to come close to this. In fact not even a professional astrologer can compete when it comes to weighing literally thousands of influences and prioritizing them as this computer astrology report does. Mercury turning retrograde in Leo by progression. Covered. Mars progressed moving from Libra to Scorpio. Covered. The Essential Year Report will not miss a thing - it is the most complete personal astrology reading and forecast you can get.

You probably already have a pretty good sense of what the future will bring for you. Now you can use the Essential Year Report to confirm your instincts about the year ahead, plan your strategy for making the most of your chances, and understand the evolutionary challenges for you as described in detail in this remarkable astrology reading.

You can expect that the Essential Year Report will provide you with a personal astrology report that accurately predict important changes in seven major areas in your life - your career, your life path, your character, your emotional life, your intellectual life, your love life and your sex life. This astrology report is designed to be readable and to the point. No irrelevant detail whatsoever.


Read what users of Essential Year Ahead Report say
Essential Year Ahead Report
$35.50 (Inclusive VAT)
---
OTHER REPORTS
Designed and written by astrologer Adrian Ross Duncan, our reports was designed to give you a fully immersive experience of astrology and of your own personal horoscope. We believe that astrology should be presented in an easily accessible way.