With the recent Turkish referendum, which potentially gives Recep Tayyip Erdogan much greater powers as president, the dream of integrating Turkey into an all-encompassing EU now seems to have been a mirage invented by European visionaries who have long since lost influence.  Rising nationalism and its accompanying anti-Islam stance in Europe, Brexit, and a general drift towards nationalism rather than globalism has firmly drawn a line between Europe and Asia, and Turkey is on the other side of that line.
Refugees in Europe
Europe, nervous about the destabilizing influence of refugees, now pays billions of Euros to Turkey to prevent refugees entering the EU. In 2015, 1 million of them arrived, and were mostly housed by Germany and to a lesser extent Sweden. Italy and Greece continue to be swamped, whilst East European countries seal their borders. Britain, France, Denmark and other rich North European countries have made life uncomfortable for the remaining refugees. Politicians respond to public sentiment and put up as many barriers as possible. The Danish "integration" minister recently bought a cake with 50 candles to celebrate the 50 pieces of legislation she and her party had passed to control and limit refugees. And perhaps 50% of the population liked that cake.
The neighboring states to Syria and Iraq have now become repositories for refugees, with almost three million in Turkey, a million in Lebanon and nearly as many in Jordan.
Considering Turkey's open doors and the lack of a welcome in Europe, it would be unwise for people raised in Western cultures to jump to conclusions about Erdogan and Turkey. We are not familiar with their cultural and religious roots, and we don't know just what it takes to rule a country of 80 million people with large minority populations and millions of refugees. In the recent referendum, the majority of Turks in big cities like Istanbul and Ankara, as well as towns on the Mediterranean coast voted not to extend the presidential powers so dear to Erdogan, but 52% of the country did.
President Erdogan
Still, it seems that Erdogan cultivates the same kind of persona as Putin, and has a similar style. Since the attempted coup on July 15, 2016 he has purged several hundred thousand people from influential positions – judges, police, army, teachers and journalists – and cemented his influence. The idea of a democratic opposition seems just as remote to Erdogan as it does to Putin. Indeed, the Turkish people who voted for Erdogan appear not to have wanted a strong opposition with all its associated dissent. As far as the people are concerned they have prospered over the last 15 years under Erdogan, just as Russians have so far prospered under Putin.
However, whilst the horoscope of Putin clearly indicates a secretive autocrat, the horoscope of Erdogan seems, with its emphasis on Pisces, to show more of a visionary – even a poet.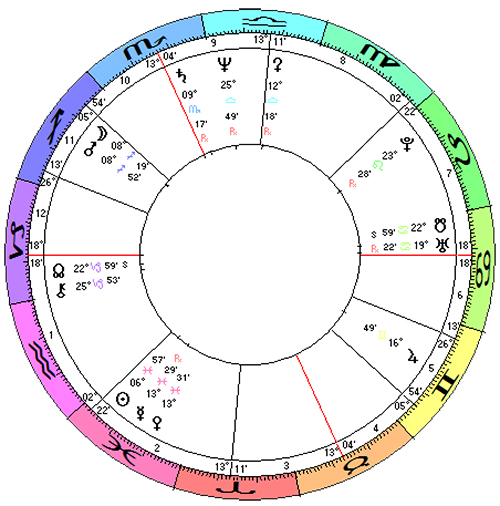 Recep Tayyip Erdogan 26 February 1954, Istanbul AS 18.18 CP.
In fact, when he was mayor of Istanbul, he recited the words of an Islamic poet at a political gathering, which so offended the Turkish government – Turkey was at the time strictly secular – that he ended up in prison for several months and was banned from politics. As mayor during the nineties, he transformed the city with state of the art garbage recycling, water purification and new infrastructure and reduced pollution with natural gas solutions. All good Piscean activities. He received an award from the United Nations for his mayoral work.
Religious Convictions
The Sun in Pisces trine Saturn in the 9th house reveals his deeply-held Muslim beliefs and his tendency towards fundamentalism. His Moon conjoining Mars in Sagittarius also attests to the fiery nature of his beliefs. This combination is reminiscent of ex-French president Sarkozy, who terrified other people with his temper. (He also has a Moon/Mars conjunction, but in Aries.)
The Pisces planets form a T-square with the Moon and Mars on one side, and Jupiter on the other, which is a really dominating pattern in mutable signs. Unfortunately, this results in a lot of projection and splitting along ideological lines. This accounts for his current demonization of so many parts of Turkish society – not least the judiciary and universities, where countless people have been purged, to be replaced by more Erdogan-friendly officials.
The Gülen Movement
It is a very complicated scenario for Erdogan, because his first very successful decade as Prime Minister was very much in partnership with the influential cleric Fethullah Gülen, who preached an altruistic secular-style Islam. However, rising paranoia about Gülen's hand in corruption investigations against Erdogan (which YouTube recordings indicate were probably true) led to him branding Gülen as a terrorist, and he is now living in exile in the USA. Gülen is a very rich philanthropist who founded universities in Turkey and worldwide, and many of his followers came to be in influential positions in Turkish society. These are the people Erdogan has been trying to get rid of for years, and the 2016 coup attempt gave him the opportunity to do so.
In all probability, Erdogan's feeling that he is threatened by Gülen from abroad is a projection mechanism associated with his Uranus conjoining the South Node on his Descendant. With the current monumental transit of Pluto over his Ascendant in Capricorn, Erdogan is now consolidating absolute power, and clearly he is becoming more dictatorial and more paranoid. But even his opponents don't want a military dictatorship, so an autocratic Erdogan seems preferably to most people.
Progressions in Erdogan's Horoscope
Erdogan's progressions are very revealing. His natal Sun has moved from Pisces, and at the time of the referendum on April 16th it had reached 9.20 Taurus – exactly opposite his natal Saturn at 9.17 Scorpio. As progressed Saturn is currently retrograde at 5.46 Scorpio, progressed Sun opposed progressed Saturn 4 years ago – the exact time his authoritarianism began after the corruption scandal which implicated Erdogan and resulted in the banishment of Gülen.
Erdogan's progressed Mars is currently sextile progressed Saturn and will go on the sextile radix Saturn, so the indications are that the iron hand of his power will be exercised for at least the next six years. The constitutional change enshrined into law with the April 2017 referendum will come into effect at the next election, in or before October 2019, and as Erdogan's progressed MC is sextile his Mercury/Venus conjunction at this time, he'll probably have consolidated his control of the media and win.
Horoscope for Turkey
The general feel of Turkey's horoscope is rather unlike that of Western democracies.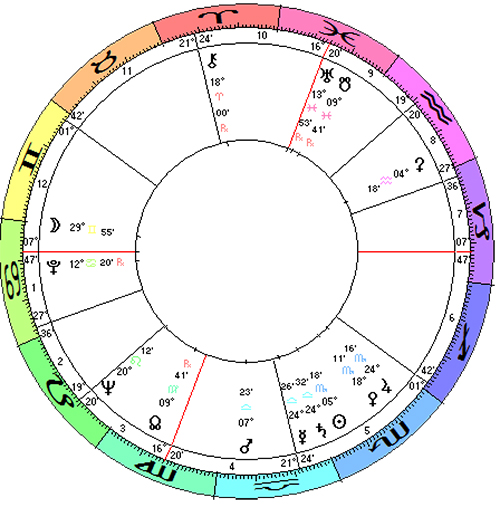 Turkey: 29th October 1923 20.30 Ankara AS 7.47 CN
The Sun in Scorpio trine Pluto shows a lack of transparency in the leadership, and the Venus/Jupiter conjunction (square Neptune) in the same sign adds to the sense of a veiled society with a strong, if hidden, religious undercurrent. Modern Turkey was founded by Mustafa Kemal (Ataturk) who oversaw a process of western secularization, granting political rights to women in 1934 but also repressing certain religious symbolism, like the veil and the fez, in government positions. Erdogan has been able to tap in to these repressed religious undercurrents, with his own Sun trine Turkey's Sun and his unusually exact Mercury/Venus conjunction exactly on Turkey's Uranus in Pisces in the 9th house.
The horoscope for Turkey itself seems to reflect its geographical placement, with Pluto trine Uranus which conjoin the Ascendant and MC respectively. This dominant influence of Pluto and Uranus also reflects the country's susceptibility to earthquakes and periodic upheavals. The threat of military coups has historically been ever-present. Even the Moon in the very last minutes of Gemini – on the World Degree at 0 Cancer – shows a split between East and West, between Islam and Christianity, between the Persian alphabet and the Latin alphabet (which Ataturk adopted).
Erdogan's horoscope harmonizes perfectly with that of Turkey. He even has a Uranus/South node conjunction in a Water sign, like Turkey, and his Pisces planets align nicely with the Water grand trine in Turkey's chart. But Erdogan's mission seems to be the very opposite of Ataturk's, with the reintroduction of traditional Islamic values instead of European values, which have, perhaps, proved to be inappropriate for his country. He initially strongly supported membership of the EU, but that does not seem to be the case anymore.
The Referendum
With the April 2017 referendum, apart from the progression of Erdogan's Sun to oppose his Saturn, there are extraordinary alignments with Turkey's progressive horoscope. Turkey's progressed Mars is now at 7.20 Sagittarius which is almost exactly on Erdogan's Mars. And at the referendum Turkey's progressed Moon conjoined that Mars, mirroring exactly Erdogan's Moon/Mars conjunction in Sagittarius! He certainly chose his time well. Interestingly, since 1923 Jupiter in Turkey's chart has progressed to 13.49 Sagittarius, exactly squaring Turkey's Uranus and 13.53 Pisces and of course Erdogan's Mercury/Venus conjunction. This also shows how intertwined the fate of Erdogan is with Turkey, and furthermore evokes a new extremism and pronounced individualism emerging in the country.
These are turbulent times for Turkey, and Erdogan is attempting to exert more control over a very fluid situation. At the time of the Syrian civil war, Neptune passed over his Sun and it is currently transiting his Mercury/Venus, and this almost certainly indicates the steady flow of refugees through his country in all directions, with the corresponding destabilization of society. Likewise, Neptune is transiting over Turkey's MC, which is very pronounced in 2018 and 2019 at the time of the future election, which, if won by Erdogan, could see him as the supreme ruler of Turkey for another decade. In other words, government institutions are, and continue to be, in a state of flux. Jails are full, skilled people have been purged and remain unemployed, or unemployable, and discontent can only rise. Erdogan's answer – with transiting Pluto over his Ascendant – is to accumulate as much power as possible. He might succeed, and in doing so attempt to recreate some of the greatness of the Ottoman Empire, which in its heyday reigned over Eastern and Southern Europe, the Arab States and North Africa. Like Putin, he would like to return Turkey to its roots, and like Putin, he will rule through autocracy and repression of the free media. Putin will be gone by 2025, but Erdogan may reign throughout the 2020's. Erdogan wants to make Turkey great again, just as Putin does Russia, just as little England wants Britain, and, of course, just as Trump wants the USA:
Adrian Ross Duncan 19th April 2017