Courses & Events
Adrian is holding talks at the following congresses:
UNITED ASTROLOGY CONGRESS - UAC 2018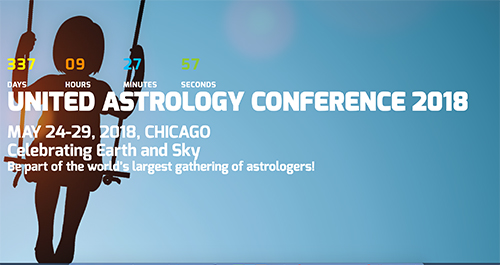 May 24-29, 2018 at 1 pm Wednesday
Downtown Chicago Marriott
UAC - May 24-29, 2018 Chicago
The United Astrology Congress takes place once every three years, with several thousand participants and 100's of the top speakers from all over the world.
Join over 170 World Class Astrologers from over 20 countries from around the world who will deliver some of the most exhilarating, intriguing and groundbreaking lectures and workshops.
Sponsored by the FIVE leading astrological organizations from around the world: AFA (American Federation of Astrologers, celebrating its 80thanniversary!), AFAN (Association for Astrological Networking), ACVA (American College of Vedic Astrology), ISAR (International Society for Astrological Research), and NCGR (National Council for Geocosmic Research), UAC2018 in Chicago is not to be missed!
Check out the event and speakers here
I will be organizing the Mundae Astrology stream and holding the following talks:

THE NEW AGE OF AIR
In December 2020, there is a Jupiter/Saturn conjunction at 0 Aquarius, and for the next 200 years these conjunctions will all be in Air Signs. Whilst the last 200-year cycle took place in Earth, showing mastery and exploitation of matter, the new era will be about light. How will this affect human consciousness, and how peaceful – with Saturn, then Jupiter, conjoining Pluto in 2020 (and Pluto subsequently entering Aquarius) will the transition be?
ASTROLOGY AND THE DAILY NEWS
The best astrological education today is provided by the news media, which unerringly chooses the hottest planetary issues of the day. Studying events in this way the observant student can soon learn the art of correlating mundane events with astrology. You learn to live in the moment as your breath is taken away by the significance of everything unfolding moment by moment. Come and see what is going on right now around you!
ASTROLOGY BOOKSby Adrian Duncan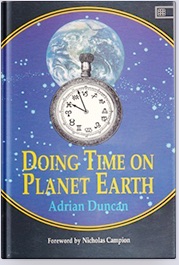 Doing Time on Planet Earth
by Adrian Duncan
I wrote Doing Time on Planet Earth in 1989-90. It was entirely based on my experiences with clients and teaching. I enjoyed writing it, and I am told it is fun to read. It covers such things as horoscope rectification, the Age of Aquarius, astrological consultations and horary astrology. Apart from many stories about "time", I advocate the use of the horary chart for the client's arrival when doing consultations. William Lilley used this, and my own consultations improved immeasurably - especially as far as making accurate predictions - when I started. There is a unique and down-to-earth section about the transition from the Piscean to the Aquarian age.
$29.74 Go to Amazon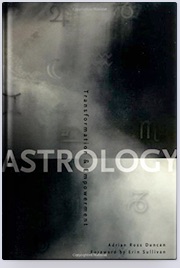 Astrology: Transformation & Empowerment
by Adrian Duncan
This, my second book, was released in December 2002 by the Boston publisher Weiser Books . I think it's a considerable departure from traditional astrology books, going beyond the cookbook approach, and asking this crucial question: "Once you have diagnosed the problem in the chart, what can you actually do about it?"

This book contains 314 pages with a list price of $29.95
$29.95 Go to Amazon