Kurser & Events
Adrian is holding talks at the following congresses:
UNITED ASTROLOGY CONGRESS - UAC 2018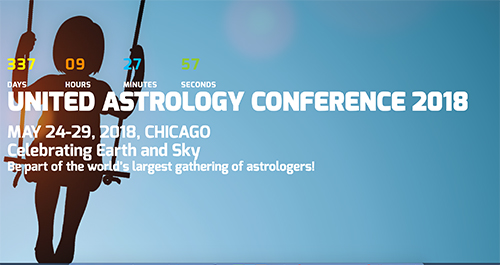 May 24-29, 2018 at 13.00 Wednesday
Downtown Chicago Marriott
UAC - May 24-29, 2018 Chicago

The United Astrology Congress takes place once every three years, with several thousand participants and 100's of the top speakers from all over the world.
Check out the event and speakers here
I will be organizing the Mundae Astrology stream and holding the following talks:

THE NEW AGE OF AIR
In December 2020, there is a Jupiter/Saturn conjunction at 0 Aquarius, and for the next 200 years these conjunctions will all be in Air Signs. Whilst the last 200-year cycle took place in Earth, showing mastery and exploitation of matter, the new era will be about light. How will this affect human consciousness, and how peaceful – with Saturn, then Jupiter, conjoining Pluto in 2020 (and Pluto subsequently entering Aquarius) will the transition be?
ASTROLOGY AND THE DAILY NEWS
The best astrological education today is provided by the news media, which unerringly chooses the hottest planetary issues of the day. Studying events in this way the observant student can soon learn the art of correlating mundane events with astrology. You learn to live in the moment as your breath is taken away by the significance of everything unfolding moment by moment. Come and see what is going on right now around you!
ASTROLOGIBØGER SKREVETaf Adrian Duncan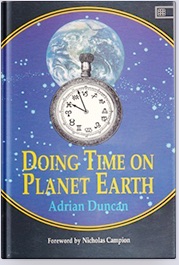 Doing Time on Planet Earth
af Adrian Duncan
Jeg skrev "Det Astrologiske Urværk" i 1989-90. Den er fuldstændigt baseret på mine egne erfaringer med klienter og undervisning. Jeg nød at skrive det og folk siger, at den er sjov at læse. Den berører emner som korrektion af horoskopet, Vandbærerens Tidsalder, astrologiske konsultationer og øjebliksastrologi. Bortset fra mange historier om "tid", så lægger jeg stor vægt på konsultationshoroskopet, opstillet for det øjeblik hvor klienten ankommer, som et vigtigt led i konsultationsprocessen. Wil
$29.74 Bestil nu hos Amazon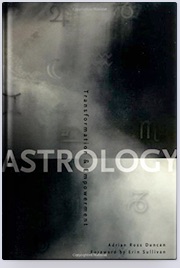 Astrology: Transformation & Empowerment
af Adrian Duncan
Om Transformation & Empowerment Dette er min anden bog og den blev udgivet i december 2002 på forlaget Weiser. Jeg synes, at den rækker ud over traditionelle astrologibøger ved at gå længere end kogebogsprincippet, idet den stiller det centrale spørgsmål: "Når du først har diagnosticeret problemet, hvad kan du så rent faktisk gøre ved det?"

Denne bog indeholder 314 sider med en pris på 320 kr
$29.95 Bestil nu hos Amazon