Interpreter + Calendar
This astrology software delivers accurate character descriptions, and precise prognoses of past, present and future. All aspects of your life explained in great detail. Choose from various options of interpretation, such as personal or professional.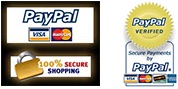 Security: All transactions are done through SSL (Secure Socket Layer) 256 bit encryption.
Privacy: We comply with strict privacy and antispam policy please refer to our Privacy Policy section to know more…
Developed by astrologer Adrian Ross Duncan, Horoscope Interpreter has been the world's best selling astrology interpretation software since 1995. No knowledge of astrology necessary - this software comes with every function fully automated. 200,000 CDs have been sold in 12 different languages. Horoscope interpreter software is available in Danish, German, Norwegian, Swedish, Spanish, Portuguese, Dutch.
Interpreter + Calendar
$149.95 (Inclusive VAT)
---
Interpreter + Calendar + Lovers
shareware
$199.95
View Details