ASTROLOGI RAPPORTER
Designet og skrevet af astrolog Adrian Ross Duncan, vores rapporter giver en stærk personlig oplevelse af astrologi og dit horoskop. Vi tror på, at astrologien skal præsenteres på en nemt og tilgængelig måde.
"Det var virkelig det værd at vente på! Det er den bedste computer rapport jeg nogensinde har set. En utrolig god syntese, og det er virkelig ikke nemt at producere via en computer. "
Alan Oken
WOW SOFTWARE
Astrologi software fra WOW kræver ingen forudgående viden om astrologi og astrologiske teknikker.
Er dit mål at forstå dig selv og din livsbane, så er vores CD'ere eller shareware det perfekte redskab for dig.
Studerer du astrologi, vil du opdage, at World of Wisdom software er en enestående lære og ledsager på din vej til at være en dygtig astrolog.

KONSULTATIONER
Adrian Ross Duncan har arbejdet fuldtids med astrologi i mange år. Han holder foredrag på kongresser verden over og har talt i Frankrig, Holland, England, Skotland, Irland, Danmark, Finland, Norge, Holland, Sverige, Canada, USA, Australien og Ny Zealand
ASTROLOGIBØGER SKREVETaf Adrian Duncan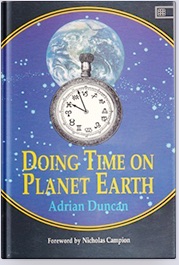 Doing Time on Planet Earth
af Adrian Duncan
Jeg skrev "Det Astrologiske Urværk" i 1989-90. Den er fuldstændigt baseret på mine egne erfaringer med klienter og undervisning. Jeg nød at skrive det og folk siger, at den er sjov at læse. Den berører emner som korrektion af horoskopet, Vandbærerens Tidsalder, astrologiske konsultationer og øjebliksastrologi. Bortset fra mange historier om "tid", så lægger jeg stor vægt på konsultationshoroskopet, opstillet for det øjeblik hvor klienten ankommer, som et vigtigt led i konsultationsprocessen. Wil
$29.74 Bestil nu hos Amazon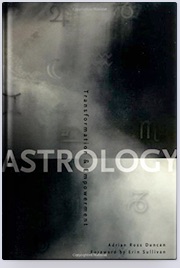 Astrology: Transformation & Empowerment
af Adrian Duncan
Om Transformation & Empowerment Dette er min anden bog og den blev udgivet i december 2002 på forlaget Weiser. Jeg synes, at den rækker ud over traditionelle astrologibøger ved at gå længere end kogebogsprincippet, idet den stiller det centrale spørgsmål: "Når du først har diagnosticeret problemet, hvad kan du så rent faktisk gøre ved det?"

Denne bog indeholder 314 sider med en pris på 320 kr
$29.95 Bestil nu hos Amazon
Om Astrowow.com
AstroWOW er en nyudviklet udgave af World of Wisdoms webside, som har tilbudt astrologi på nettet siden 1995. Designet og skrevet af astrolog Adrian Ross Duncan, dette site er lavet for at give dig en fascinerende oplevelse af astrologi og dit eget fødselshoroskop. Vi synes at astrologi skal præsenteres på en let og tilgængelig måde så selv de mennesker som bare har lidt kendskab til astrologi og horoskoper kan få adgang til denne forunderlige rigdom af gammel viden og tydningskunst.
De 12 Zodiaktegn
Vi tilbyder først og fremmest daglige horoskoper, ugentlige horoskoper, månedlige horoskoper og årshoroskoper som er skrevet af os – professionelle astrologer – som bruger øjebliks astrologi teknikken for at gøre vores sol- og stjerne tegn så præcise som muligt. Vi kigger på over 400 horoskoper og skriver 16,000 ord hver måned for at glæde over 1 million bruger i verden.
Om Astrologi
Astrologi har været kendt i årtusinder men har aldrig været så populær og respekteret som det er i dag. Hvorfor? Fordi astrologi virker og når folk f.eks. læser deres daglige, ugentlige eller månedlige horoskoper mærker de samklangen mellem deres stjernetegn og deres karakter.
Selvfølgelig er astrologi meget mere komplekst end bare de 12 stjernetegn. Ideen bag astrologien er at den mindste ting i universet er underlagt de samme kræfter som de største ting og begivenheder på et område reflekterer begivenheder på et andet og som et gammelt ordsprog siger: "Som foroven, så forneden". Ingen ved hvorfor det er sådan og der er ingen bekendt kraft i universet, der kan bevise at det har den effekt. Men alligevel forbinder folk sig med deres horoskoper og fornemmer en tæt samklang med kosmos.
Astrologien i vesten er baseret på vores solsystem og planeternes bevægelse og ikke ret meget på stjernerne udenfor vores solsystem. De 12 stjernetegn er mere præcist kaldet "soltegn" fordi de afspejler jordens bane rundt om solen, som på jorden opleves som de fire årstider og specielt ved forår- og efterårsjævndøgn og sommer- og vintersolhverv. Disse fire punkter viser starten på de fire tegn: Vædder og Vægt, Krebs og Stenbuk. De mellemliggende tegn – Tyr/Tvilling, Løve/Jomfru, Skorpion/Skytte og Vandbærer/Fisk sættes derefter ind med 30 graders intervaller. Når astrologer laver forudsigelser eller personanalyser, så ser de på planetbevægelserne gennem de 12 tegn samt planeternes indbyrdes forhold.
Horoskoper
A horoscope is a two-dimensional map of the solar system, which shows exactly where the sun, moon and planets are in the 12 zodiac signs: Aries, Taurus, Gemini, Cancer, Leo, Virgo, Libra, Scorpio, Sagittarius, Capricorn, Aquarius and Pisces. Based on the exact time and place of birth, the 12 Houses of the horoscope can also be calculated, and the planets in signs are placed in this framework – the personal horoscope.
Basically this is an incredibly advanced way of displaying a particular point in time at a particular point in space. You can even work backwards from a horoscope drawing to divine the exact time and place of birth. There are 1440 simple combinations of planets in signs and houses, but astrology gets much, much more complicated than that.
Of course, most people think of horoscopes as the daily, weekly, monthly or yearly horoscopes seen in newspapers and magazine, or online. (The 12 signs of the zodiac). Really these are sunsign horoscopes, because they are simply based on where your sun is on any particular birth date, and naturally these star signs are very general. They can be quite accurate though, because the sun is such a dominating factor in a horoscope. Nevertheless, the moon and planets each have very specific and very strong influences, and the only way you can find out what that is, is by having your personal horoscope calculated.
Basically your date of birth will show you in which sign the Sun, Mercury, Venus, Mars, Jupiter, Saturn, Uranus, Neptune and Pluto are in your horoscope, because they are unlikely to change signs during the course of a day. For example – from the standpoint of someone on Earth – the sun takes one month to move from one star sign to another, whilst Uranus takes seven years. As the moon moves from one sign to another in a little over two days, you need the birth time and place to be sure of where it is.
Knowing the birth time and place makes it possible to calculate the 12 houses of the horoscope, and the main framework of the 12 houses are the four cardinal points:
The Ascendant – or first house (the Eastern horizon)
The IC – or fourth house (The sun's position at midnight)
The Descendant – or seventh house (the Western horizon)
The MC – or tenth house (the sun's position at noon)
Once you have the planet in sign and house, you can make the interpretation. So the Moon in Aries in the 7th house, for example, would show someone emotionally receptive (moon) in a rather impulsive way (Aries) to other people (7th house).
On the AstroWiki section of this site you can find interpretations of all these astrological combinations. And of course you can also have your personal horoscope calculated – and we'll interpret it for you!
Zodiac Signs
There is a myth associated with astrology that sun signs are superficial and that anyone can write them. It is true that sun signs are general, but they are by no means easy to write. In fact they demand tremendous experience. Only excellent astrologers can write accurate sunsigns. And most of the sun signs you see on major astrology sites are written by excellent astrologers. (Although this is not always the case with newspapers).
The astrologers on our site have been practicing astrology for a minimum of ten years, some over 30 years. When we write daily horoscopes, weekly horoscopes and monthly horoscopes, we actually look at over 400 horoscopes for each star sign, each day and each week during the course of a month. And write around 16,000 words.
Sun signs are sometimes called star signs, but they are based on the orbit of the Earth around the sun, which we register here on Earth as the equinoxes and solstices, which are when day and night are of equal length (March 20th and September 22nd) or when it is the longest day or longest night (21st June and December). These form the first degree of the Cardinal Signs – Aries, Cancer, Libra and Capricorn – and the remaining signs are placed between them. In this way with get the 12 zodiac signs, which should rightfully be called sun signs rather than star signs.
Skilled sun sign astrologers follow the movement of the planets through each of these signs, and predict what will happen according to the relationships of the planets in the signs and to themselves. What is crucial for sun sign judgments is how strong or weak planets are in the signs. Planets are for example strong in the star sign they rule, and weak in the opposite sign of the zodiac. For each zodiac sign we place the sign as the 1st house of the horoscope and then make an Equal House horoscope, so that each subsequent sign corresponds to a subsequent house. So if we make a horoscope for Leo, then Virgo will be in the solar 2nd house (finances). The key to it all is the planet which "rules" each star sign.
It works like this:
For the Aries horoscope: Check out Mars in sign and house
For the Taurus horoscope: Check out Venus in sign and house
For the Gemini horoscope:Check out Mercury in sign and house
For the Cancer horoscope:Check out the Moon in sign and house
For the Leo horoscope:Check out the Sun in sign and house
For the Virgo horoscope:Check out Mercury in sign and house
For the Libra horoscope:Check out Venus in sign and house
For the Scorpio horoscope:Check out Mars in sign and house
For the Sagittarius horoscope:Check out Jupiter in sign and house
For the Capricorn horoscope:Check out Saturn in sign and house
For the Aquarius horoscope:Check out Saturn in sign and house
For the Pisces horoscope:Check out Jupiter in sign and house
The outer planets Uranus, Neptune and Pluto are not used as "rulers" in sun sign astrology, even though they are related to Aquarius, Pisces and Scorpio respectively. If you want to learn more about sunsign astrology check out my article at: Sun sign astrology
Astrology Blogs

Mars In Pisces – Games Planets Play
The very day Mars moved in to Pisces I found the funniest picture on Facebook which a Danish politician had posted on his official site. Believe it or not it ...Læs Mere

Astrologers should be forgiven for incorrectly predicting the US election result. It is almost impossible to avoid rooting for the candidate you prefer. Those who predicted a Trump win probably ...Læs Mere

Mere energi, entusiasme og humor i august måned!Hvis du føler at der har været intense følelser, stærke og mørke lidenskaber eller indre dæmoner at kæmpe med i 2016 frem til ...Læs Mere