Sometimes it is good to get things wrong – and on June 23rd 2016 everyone got it wrong. Even the bewildered Brexiters – those who voted for the United Kingdom to leave the European Union – woke up dazed and confused the morning after. Theirs was a protest vote. Everyone who "counted", that is the media, the politicians, the business elite, the experts who knew what was best for Britain, could not comprehend what had happened. But the truth was simple: if you had money, you voted in, if you didn't you voted out.
The people who voted out were the working people of Britain on a basic living wage, who had seen their wages undercut by immigration, especially from Eastern Europe, and who put their children in State schools where there now was a considerable proportion of kids who did not speak English. The business community benefited from cheaper wages, but the working-class community did not. Of course, this is also a question of perception, because there are many other global forces displacing workers, not least cheap imports from the developing world and technological advances in automation. But Donald Trump in the US, Marine Le Pen in France, Gert Wilders in Holland, Heinz-Christian Strache In Austria – the list is long in Europe – have all tapped in to a popular unease with immigration, which threatens to transmute to something reminiscent of the Fascist movements of the 1930's.
Right-wing movements
The 1930's was, like the period from 2011-2015, also characterized by a Uranus in Aries square Pluto, which unleashed a me-first nationalism –  the demons that later ushered in World War II. Here in the last part of the 2010's similar patterns are visible – not least the coming Jupiter/Saturn conjunction which took place in 1940, and as a repeating 20-year cycle is also due at the end of 2020. The departure of the United Kingdom from the EU, which will probably have taken place by 2019, represents a memory lapse, considering that the whole idea of Europe was to create a union dedicated to peace after two bitter world wars. Now Europe has been destabilized, and people who play on nationalist feelings and enmity to immigrants and to Muslims in particular, threaten to open up Pandora's Box. Indeed, with growing terrorist outrages springing from the marginalization of Muslims and the madness of so-called Islamic State, more control, more surveillance and more bombing is likely to be seen as a solution by Western governments. It could all end badly.
Goodbye to all that
But before we go that way, let's celebrate! What's there to celebrate? This: the catastrophe of Brexit removed in the space of weeks the entire privileged boy's club of the Cameron cabinet. These were the participants in the referendum idea, who played with the future of Europe. They are: David Cameron (Prime Minister), George Osborne (Chancellor of the Exchequer), Boris Johnson (who aspired to the job of PM) and Michael Gove, his Brexiteer partner who nicely stabbed Boris in the back, announcing his own candidature as leader of the Conservative Party, and failed miserably.
Who were these men? Cameron, Osborne and Johnson had all gone to Eton. They had then gone to Oxford University, as had Michael Gove. In Oxford, they were members of the Bullingdon Club, the notorious and debauched venue for right-wing politics. Women were only occasionally allowed, for drinks not to dinners, and as one Old Etonian told a tabloid newspaper: "We would make them get down on all fours like a horse, whinny, and bring out the hunting horns and whips". Yes… British politicians. They all lived within a short distance of each other in London, went to each other's parties and christenings, and had a jolly good time running Britain.
The new British PM and Boris
Enter nanny Theresa May, who spanked all their bottoms instead, and who is now Prime Minister of Britain. Born on October 1st 1956, she is a Libra with (if she was born early morning) the Moon in Leo – just like that other famous Libra nanny Margaret Thatcher. Theresa May is perhaps no Iron Lady – Thatcher had Saturn rising in Scorpio trine Pluto in the 8th house – but she does have the Moon conjoining Pluto and square Saturn (also in Scorpio), so the echoes are there.
May is now going to have her work cut out, trying to guide the UK through a truly chaotic period, and it is doubtful that she will find it easy. Her Mars is 13.43 retrograde in Pisces, so Neptune's transit, which is not over until the end of 2018 is sure to undermine her executive abilities. In fact, Mars which turned direct early in her life is now approaching an opposition to her natal retrograde Mercury at 28 Virgo, so the hunting horns and whips are in her hands now. She has appointed her cabinet, with many fresh faces except for one mind-boggling exception: Boris Johnson is now Foreign Minister. This is the fellow who submitted the following limerick to the Spectator magazine poetry competition  (and won £1000) which was designed to expose Turkish President Erdogan:
"There was a young fellow from Ankara
Who was a terrific wankerer,
Till he sowed his wild oats,
With the help of a goat,
But he didn't even stop to thankera."

Hmmm… best of luck in dealing with Turkey, Boris.
Reflections on the Referendum Chart
Brexit has been referred to as the largest political earthquake for Britain since World War II, so perhaps it is worth revisiting the astrology of the occasion to understand what the indicators were, and why they were missed, as I did in my earlier article about the referendum. (Note 1.) First a quick look at the Referendum horoscope itself.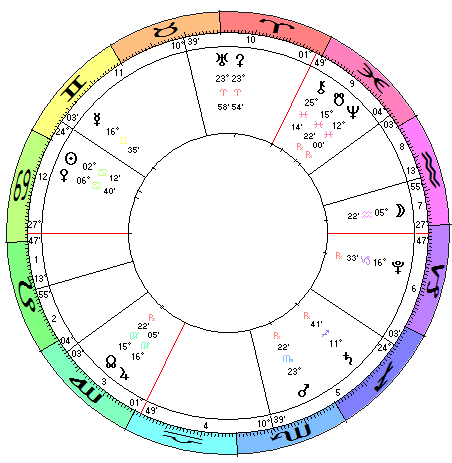 UK Referendum: June 23rd 2016. 7.00 London AS 27.47 CN
Basically you cannot trust the Moon to give the answer here. It was in Aquarius and the 7th house moving towards a sextile to Saturn in Sagittarius, which seems the ideal aspect for being a member of the EU. The moon just showed expectations, not facts. Clearly Mars in Scorpio virtually stationary and in a quincunx to a rare Uranus/Ceres/Eris conjunction at 23 Aries was more devastating than predicted. Those 23 degrees – they do of course correspond with the ayanamsa, meaning that in Vedic astrology this conjunction was at 0 degrees Aries. The aspect between Mars and Uranus has been within a degree from mid-June to mid-July, exactly spanning the period for the chaotic destruction of Cameron's cabinet. The smart astrologer might have looked at the horoscope for the Conservative Party (Note 2) as Mars was exactly on the MC, activating the exact Saturn/Moon opposition at 25 Scorpio/Taurus. But even with this information, it may still have been rash to predict Brexit.
The Referendum chart has of course an exact Jupiter/North Node conjunction, and the UK actually joined the EU on January 1st 1973 with the same conjunction (at that time at 17 Capricorn). So here the Node appears to have functioned as a gateway: In-Out. Anyway, perhaps the coming conjunction of Pluto with this degree augured the coming negotiations on Brexit. Actually the Conservative Party Ascendant is at 18 Capricorn, so the indications are there.
David Cameron has his Sun at 15.27 Libra, so transiting Pluto was due to make the last two of a series of three squares, which was also a pretty strong indication of his ouster, but not a sure thing. Still, his progressed Ascendant was at 5 Scorpio conjoining his Mercury and semisquare Pluto, which is pretty toxic. And, his MC progressed was square the Nodes at 17 Scorpio/Taurus – a point which Mercury by progression had just reached. More evidence of a dramatic reversal of fortune I guess. (Note 3)
Progressions in the EU chart
All the scare tactics in the world did not sway the people of Britain who favored leaving the EU. Cameron warned them, Obama warned them, EU politicians warned them, and it had no effect – perhaps even a negative effect. Perhaps what Europe should have said was how much the EU needed Britain, and how much they loved Britain. At any rate, the strongest clue to Brexit lies in horoscope for the Single European Act, which established the European Union.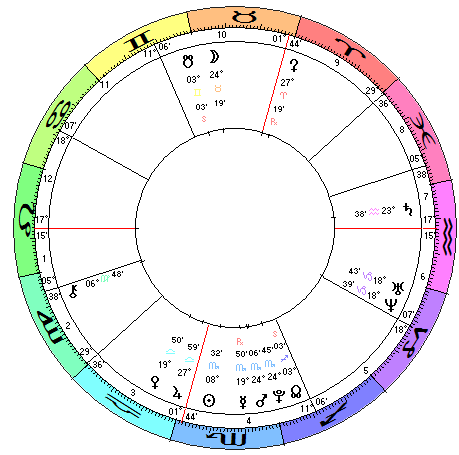 EU – Single European Act: November 1st 1993. 0.00 Brussels (AS 17.15 LE)
In this horoscope we can see how the all-powerful Mars/Pluto conjunction at 24 Scorpio exactly opposes the Moon in Taurus – and this is of course the degree around which Mars stationed in June and July 2016. This aspect shows the economic power and the secrecy of the political machine in Brussels, which has been resented so much by ordinary people in Europe. If you progress this horoscope to June 23rd 2016, the MC/IC axis is at 24 Taurus/Scorpio, and this, more than anything else, is the astrological signature of a long-awaited catastrophe that would befall Europe… the loss of Britain. Now, as Venus progresses to conjoin Mercury in 2017, we can expect the financial repercussions to kick in, as the UK tries to renegotiate access to the EU markets, whilst limiting immigration. By 2021 Venus will conjoin Mars and Pluto, and any hopes of compromise will almost certainly be dashed. There will be no British return to the EU in the foreseeable future.
The optimistic scenario is that Britain will make the right noises, will retain access to the markets, and that London will not lose its tremendous power as a financial center. Immigration will perhaps proceed at a slightly lesser pace, whilst the UK will have less influence in Europe and be more self-reliant. Continuing the optimistic view, Scotland will not vote for independence, Northern Ireland will not demand to merge with the South. UK citizens will continue to be able to live and work in the EU and vice versa.
Survival of the EU
Another view is that Brexit is just the beginning of a disintegration process for the EU, and that it will destabilize security in Europe, making it more vulnerable to threats from elsewhere. Judging from initial reactions in Europe, ordinary people are horrified at Brexit – even people who are skeptical about the EU. Brussels will not make it easy for Britain, as an example to everyone else. It is likely that EU will show even more internal solidarity now. Still, with the growth of right-wing movements, the threat of terrorism, and the antipathy of Eastern European governments to immigrants, things are not going to be stable. Marine Le Pen as President of France, anyone?
From the end of 2016 to mid-2017 Jupiter in Libra sextiles Saturn in Sagittarius, and it is likely a period when politicians do their utmost to achieve compromise. But as Saturn moves into Capricorn to eventually conjoin Pluto during 2020, with Jupiter quickly catching up at the rear, there will be a crushing authoritarianism, probably because government will want to preempt right-wing intolerance by being more extreme themselves. Surveillance, which already permeates every aspect of life, will become all-pervading. The EU big, bad brother – Mars/Pluto – is going to love that. So ahead is a bumpy ride, and the changes due at the end of 2020 when the epoch-making Jupiter/Saturn conjunction takes place at zero Aquarius, ushering in a new Air Sign age suggest that it is a new kind of world that we will be looking at during the next decade.
Adrian Ross Duncan July 19th 2016
This article was published in the May edition of The Mountain Astrologer magazine.
Conservative Party November 12th 1867. 12.00 London (AS 18.38 CP)
David Cameron: October 9th 1966. 6.00 am Wantage, UK (AS 0.40 LI)